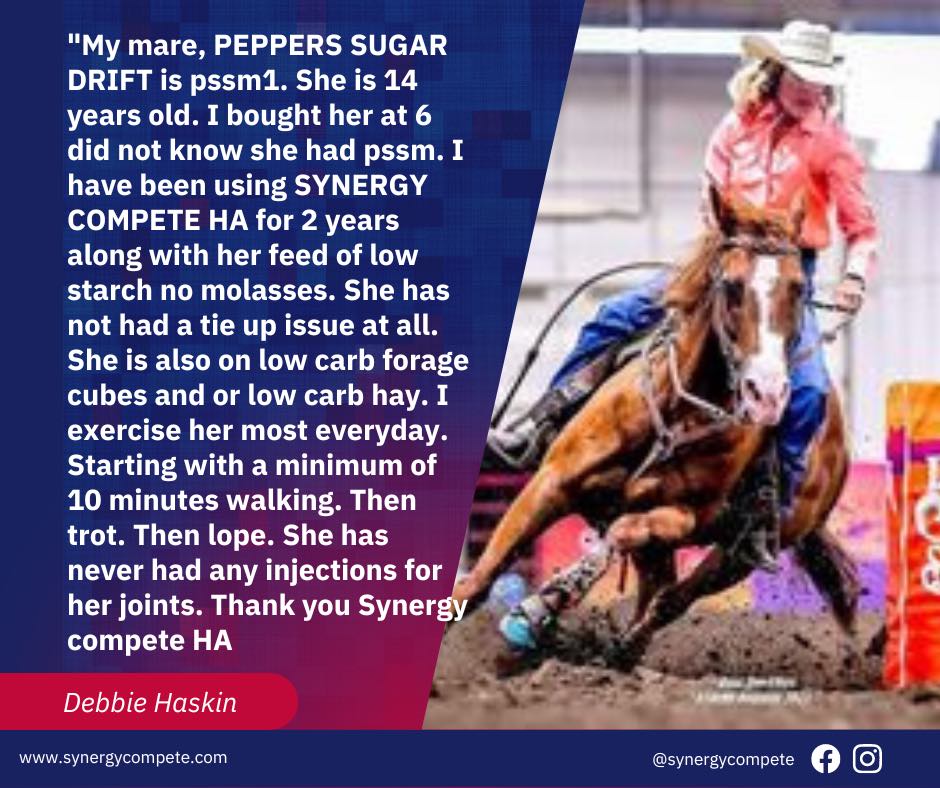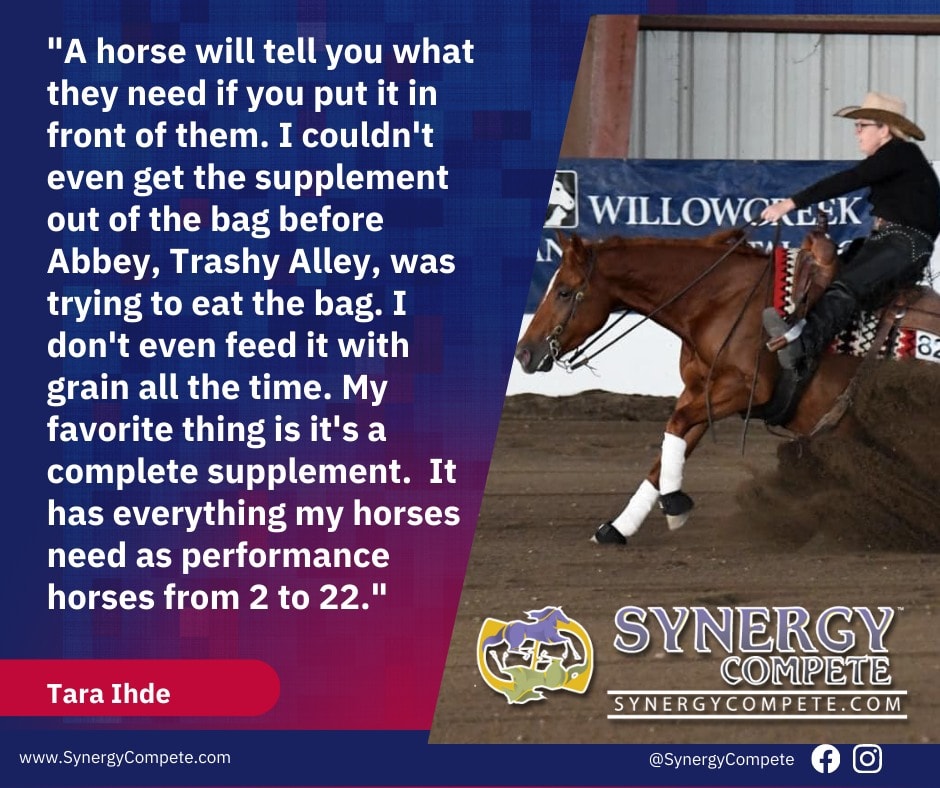 ---
"All of our horses run on Synergy Compete and all have great results.  After two weeks you will not only feel the difference but you see the difference.  Your horse will look and feel great and it will not make them hot.  We also use it on all of our stallions to keep their numbers high for shipping during breeding season."
John Fame
---
"Synergy Compete has been a game changer for my horses. I feed it to my barrel horses young and old. I feel like I am giving them the best I can and not have to be a chemist to get it accomplished. The muscle tone, shiny hair coat, and long manes and tails are just some of the benefits. My horses love it and I love having them feel their best."
Jackie Buckley
---
"My mare, PEPPERS SUGAR DRIFT is pssm1. She is 14 years old. I bought her at 6 did not know she had pssm. I have been using SYNERGY COMPETE HA for 2 years along with her feed of low starch no molasses. She has not had a tie up issue at all. She is also on low carb forage cubes and or low carb hay. I exercise her most everyday. Starting with a minimum of 10 minutes walking. Then trot. Then lope. She has never had any injections for her joints. Thank you Synergy compete HA
Debbie Haskin
---
"A horse will tell you what they need if you put it in front of them.  I couldn't even get the supplement out of the bag before Abbey, Trashy Alley, was trying to eat the bag.  I don't even feed it with grain all the time.  My favorite thins is it's a complete supplement.  It has everything my horses need as performance horses from 2 to 22."
Tara Ihde
---
Just wanted to thank you for such an amazing supplement!! I have used Synergy for the past 4 years on my older rodeo barrel horse with great results. This year at 18 I retired him to a high school rodeo girl who also keeps him on Synergy. He is not only still winning but he has no health issues. Amazing considering he has been rodeo'd on for 14 years. No lameness, never bled, never tied up. I attribute much of this to Synergy Compete. I am now running his brother and had not put him on Synergy because he wasn't really being used much. He had tummy issues, possible ulcers, nervousness, all which I attributed to being young and getting used to the whole rodeo thing. Two weeks ago I put him on Synergy Compete with great results. I no longer use Omeprozol, he stands at the trailer and I have improved my times by almost a full second on a standard pattern. Foolishly I waited to put him on this supplement, a mistake I will not make again with my colts. Thank you for your product, I can't say enough about it!!
Chris Powers
---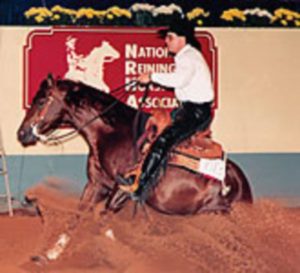 Synergy Compete definitely helps my reining horses appearances and performance. Synergy Compete is a tool to help me maintain them during the show season, especially with managing sore muscles and minor soreness issues. The horses clean it up at feeding time, without sorting it out. It's a great product!
Bob Loomis
6X NRHA Futurity Champion
12X World Reining Champion
---
I am in the Health and Wellness industry, so I know the importance of good supplementation, with antioxidants, vitamins and minerals. I have looked long and hard to find a product like Synergy Compete. It covers all of my horses needs and protects him from oxidative stress.
This gives me the peace of mind that I am doing everything I can for him.
Thank you for everything,
Vickie Solmonsen
NFR Qualifier/ Professional Barrel Racer
Velocity Formulas Pro Team
---
As a veterinarian and competitor in the horse industry, I have had opportunities to use and recommend equine supplements. Three of the most important factors to my use of a supplement are palatability, ease of use, and results. In my personal use, Synergy Compete meets these criteria. My horses readily eat it, I'm not taking a scoop of 5 or more different products to get the desired supplement ingredients, and I actually see and feel the results. Synergy Compete has proven to be a very quality comprehensive equine supplement that produces results. For those who want to see if their horse would benefit from a supplement or for those who are currently using supplements, I would strongly recommend Synergy Compete.
David L. Faught, DVM
DVM Washington State University, 1992
PDL Reno Rodeo Invitational Roping- winner 2005
USTRC Northwest Regional Finals Roping- winner 2005
USTRC Pacific Coast Classic Roping- winner 2007
---
Synergy Compete is the only supplement we use. We have used so many supplements and most of them either did nothing or made our horses sick. Synergy Compete makes our horses look and feel great, and it works well with our feeding program. It is the best supplement we have ever used and the only one we have seen such a positive change in our horses with.
Phillip & Tracy Kenyon
Professional Barrel Racers
www.kenyonbarrelhorses.com
---
"The first day my horse wasn't sure about the taste, by the third day he inhaled it! I think Heather put a lot of thought and research in the packaging on what ingredients can be put together for maximum utilization. I have been using Synergy Compete since May of 2006. Within the first week I noticed my horse Fast Time Boone- "Boone" was a lot more relaxed. He was so calm I was afraid he wouldn't run. But to my surprise not only did he run, he won the race by 6 tenths! He had complete focus on what I asked of him. His coat is shiny, he is maintaining his weight well, and his muscles are more defined.I like knowing that Synergy Compete has all the supplements he needs in one."
– Renee Ryckebosch
Sparks, NV Professional Barrel Racer
---
I have had Rock on the supplement since the end of July. Up to that point, I was having a hard time putting weight on him. He has really blossomed on the supplement, and that is all I have changed. Prior to starting, Rock weighed anywhere between 1100 and 1150 lbs. Now he is right at 1250 lbs. I think it has worked great in that capacity.
Take care!
– Timi Lickley
Jerome, ID Professional Barrel Racer
---
Just dropping you a note to let you know that I LOVE your product and more importantly my barrel gelding "Reno" REALLY LOVES it!!! He has been on it now for about a month. Before I started him on it he was getting very hot before and during our runs and subsequently the runs were getting rough, he wasn't concentrating and thus not working as good as he could and should. Since being on your product he is cool as a cucumber before the run and then FIRES, and is so focused that he wraps all three barrels. He's back to running in the 1D and just placed this weekend at his first rodeo where he had to ingnore the bulls fighting on one side of the alley and the broncs on the other, to enter a dark cave of an arena and make his run!
That alone makes us love your product, but I also can't get over how he looks, all tucked-up, in optimal weight, muscled and shiny even as he sheds out. But the biggest thing I noticed is the difference in his legs. Reno is very thick boned and I always assumed that he had thick skin over those big bones, so much so that you could never see any tendons like you can on other horses. Also on occasion he was getting fluid pockets if the run that week was in too deep of ground or his hay or grass was too rich. Now his legs are perfectly CLEAN, all tendons visible and no fluid after any of the runs we have made since he has been on your product!!!
I can't get over what this is doing for Reno, I thank you profoundly for your product!
– Joy Bamber
Alberta, Canada 
---
Velocity Formulas,
My name is Sarah MacDonald, I am twenty years old , and live in the little town of Cornville, Arizona. Just like any other serious barrel racer, I have tried everything under the sun in order to enhance my horse's health and performance. I have been using Velocity Formulas Synergy Compete for the last four months, and I am confident in saying that nothing even compares to Synergy. I am now running with the WPRA in the Turquoise Circuit on my 14 yr old gelding. Over the last year he has been on many different supplements due to digestive, hoof and joint issues. Since starting him on Synergy Compete the change in his health and performance is simply amazing! He is now running up with the toughest professional girls in Arizona, and surrounding states. I know that Synergy Compete has played a huge part in our success. I would recommend this product to anyone. Thank you Heather and Velocity Formulas for all your help!
-Sarah MacDonald
Cornville, AZ Professional Barrel Racer
---
We decided to add Synergy to our feeding program because we liked the combination of minerals, vitamins and joint support; it can get costly and bothersome trying to feed all they need from numerous supplements and we felt Synergy could take care of all of our supplement needs. We were right, since being on Synergy our horses have shown improved recovery from races, they have maintained good focus while improving hair coat and condition; and they like to eat it which completes the ease factor. I would recommend this product to all levels of competiton horse as it addresses all aspects of supplement care and in doing so makes the horse look and move great.
Jamie Cook
J-K Performance Horses
Willows, CA 
---
Congratulations to The Hendrix Crew and their horses!! Caleb and JO took home the World Championship Flag Racing Title at the National Little Britches Rodeo Finals in Pueblo Colorado in July 2007. Thanks to Synergy Compete our horses haul happy and healthy and show up at the rodeo ready to compete at their best level. Congrats to Rachel for taking home $5,650.00, a lap top computer and a breast collar from the Can Chaser Challenge in Pasco, Washington. She and My Easy Event (Johnny) finished both runs in the 1D and ended up 10th in average. Rachel and YR Tickle Me Rudy (Rudy) finished 5th in Youth Average placing also in the 1D both runs. Thanks Heather for your product and support.
The Hendrix Family
Las Vegas, NV 
---
"Synergy Compete has made such a difference in both my young horse and my rodeo horse. The younger horse gained much needed focus after being on Synergy for only two weeks and the "campaigner" has gained the needed stamina to rodeo weekend after weekend. This product is an "all in one"; no longer am I looking for combinations to mix and match. This product is truly incredible! It has taken you, Heather, one that knows colts and older horses to come up with a formula that works on horses at all levels. I don't know if I want everyone using this because I like winning first!"
Mendy Beardsley; Proffessional Barrel Racer, Chico, CA
---
I chose a 4 year old gelding " Eight Ball" to feed Synergy Compete to. I chose this particular horse specifically because he was under weight, he was not shedding his hair, and had chronic diarrhea. I started feeding him the producton July15, 2005 and by July 30. 2005 my husband and I could see obvious weight gain,shiny hair, and the diarrhea was gone. Within another 30 days his behavior began to change, he was calmer, and more trainable. I was impressed with the quick and obvious result of feeding this product. We take good care of our horses, I was hesitant about making changes with anyother horse. I had nothing to lose( on this particular horse)when asked to try this supplement. I would/will feed it to my other horses.
– Shirley Ankrum – Professional Barrel Racer/Barrel Horse Trainer/Clinician
---
"Synergy Compete has made a noticable difference in my 7 year old gelding, Dilbert. Last summer, he was becoming extremely 'hot' and lacked focus. I started having a hard time keeping weight on him and his hair looked unhealthy. When I began using your product, I noticed a difference in his mental attitude and coat immediately. Now that he has been on it for several months, I feel like I have my horse back. He is energetic, but focused, and I get compliments on his shiny coat. He has an appetite again too. Even my vet commented on what a difference he notices in my horse both physically and mentally. I really believe in the changes it has made in my horse.
Thank you so much for creating such an amazing product!"
– Allison VanKoll Barrel Racer/Trainer T/A Ranch Brush Prairie, WA
---
I recently started using Synergy Compete and have seen the performance of my horses excel.
Lita Scott
NFR Qualifier, Professional Barrel Racer
Carson City, NV
---
Thank you Heather, I have seen a change for the good in my horse.
– Ashley Collins
Spring Creek, NV
---
I want to let you know I think your product is wonderful, the horses have no problem eating it up and I have noticed a little difference in Cashed and Slick, they don't seem as nervous. Not sure if its because of the supplement, but I really think it is.
– Tammy Roysdon
Fallon, NV
---
The Synergy Compete have been wonderful for my young futurity horses. They took the stress of hauling with little change. I have received many compliments on the condition of their coats. The coats are smooth and soft with a nice shine. The product is really easy to feed. I like the fact that you can get the vitamins and glucosamine/MSM in one package. The hoof growth has also been nice. I would highly recommend trying this vitamins in the future. Consideration to the equine athlete was given when these vitamins were developed.
– Sandra Biewald /SEB Barrel Horses
Buhl, ID
---
Just wanted to let you know how great I think your Synergy Compete formula is. My big bay horse is very anxious most
of the time in the arena. His anxiety has caused him to be unfocused. Since beginning Synergy Compete, his anxiety has been reduced tremendously, he is listening to me, he looks and feels wonderful,and is much much more fun.We have begun placing at some barrel races. I can't thank you enough for this great supplement.
– Jackie Hofheins
Fallon, NV
---
Synergy Compete had a calming effect on my horse, allowing her more focus and stamina to compete in the arena. Everything the equine athlete needs in one package- that's AWESOME!
– Kourtney Woods
Fallon, NV Professional Barrel Racer/Vet Technician
---
I was given the opportunity to try Synergy Compete supplements as a trial during the spring/summer of 2005. I started both of my barrel racing horses on the formulas immediately, feeding as directed by its creator.. read more>
– Shannon Sustacha /Professional Barrel Racer
Lamiolle , NV
---
"My horse is so picky, but she just slicked Synergy Compete right up!"
– Trina Mattox 
Gainesville, TX.
---
Heather: Just wanted you to know that I am so happy with the results I am getting with the Synergy Compete! My horse is NOT an easy keeper at all and I have tried every single supplement on the market and NOTHING has worked! In less than 30 days my horse is full through her flank, which is something that I have never been able to achieve with her. It is obvious that she not only looks the best she ever has, but feels great too! She has been on stall rest for 5 months and I now have her legged up and ready to run. Can't wait to make a run on her! Thanks so much for creating a wonderful product! I have FINALLY found a supplement that not only lives up to it's claims, but surpasses my expectations. I am a believer!
– Jessi Phipps 
Klondike, TX.
---
"I love the product! I won an amateur rodeo 2 weeks after starting my horse on Synergy Compete. He worked great, and even walked in better than ever."
Leah Jones from Raymond, Alberta Candada
---
Hello Velocity Formulas,
My name is Megan McGinn and although I do have a colt coming along nicely in the barrels, I am mainly a breakaway roper. My horse "Poker Chip" has currently been on Synergy Compete for one month…in that period we have placed in the CCPRA breakaway roping as well as won the Garberville CCPRA. Chips, a calf horse I bought from Brad Goodrich earlier this year, has always been on the muscle and a little tight in the box. Since the introduction of Synergy Compete he has turn completly around in the practice pen and at rodeos. Now, regardless of how long it takes my calf to be right, he stays soft and calm in box and leaves hard and flat across the line… Just wanted to let you all know how effective the product has been in the roping pen and thank you for the profession edge it has brought to my horse, allowing us to be currently leading the standings for CCPRA Rookie breakaway roper of the year.
Thanks again and we'll see you down the road,
Megan McGinn.